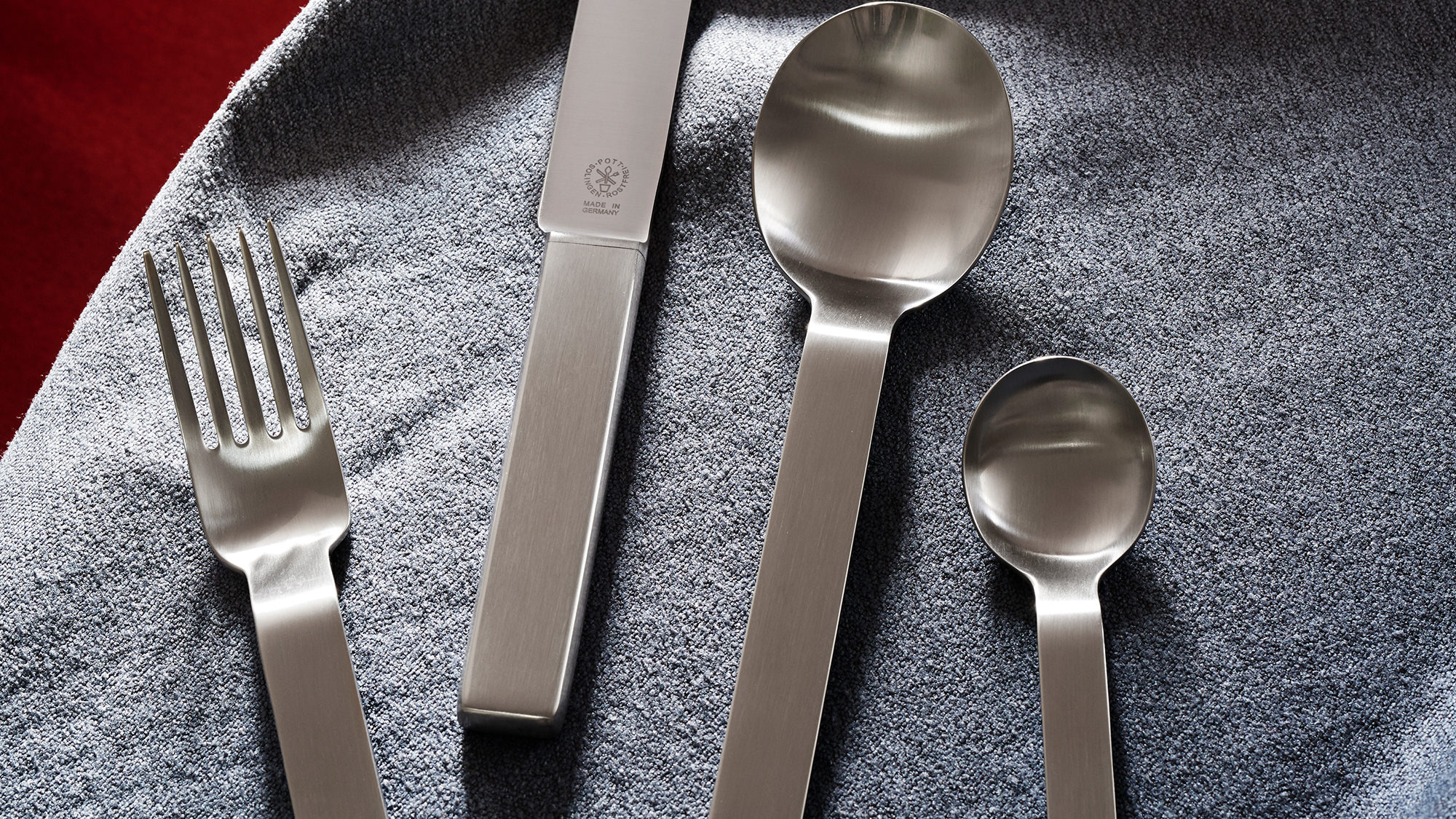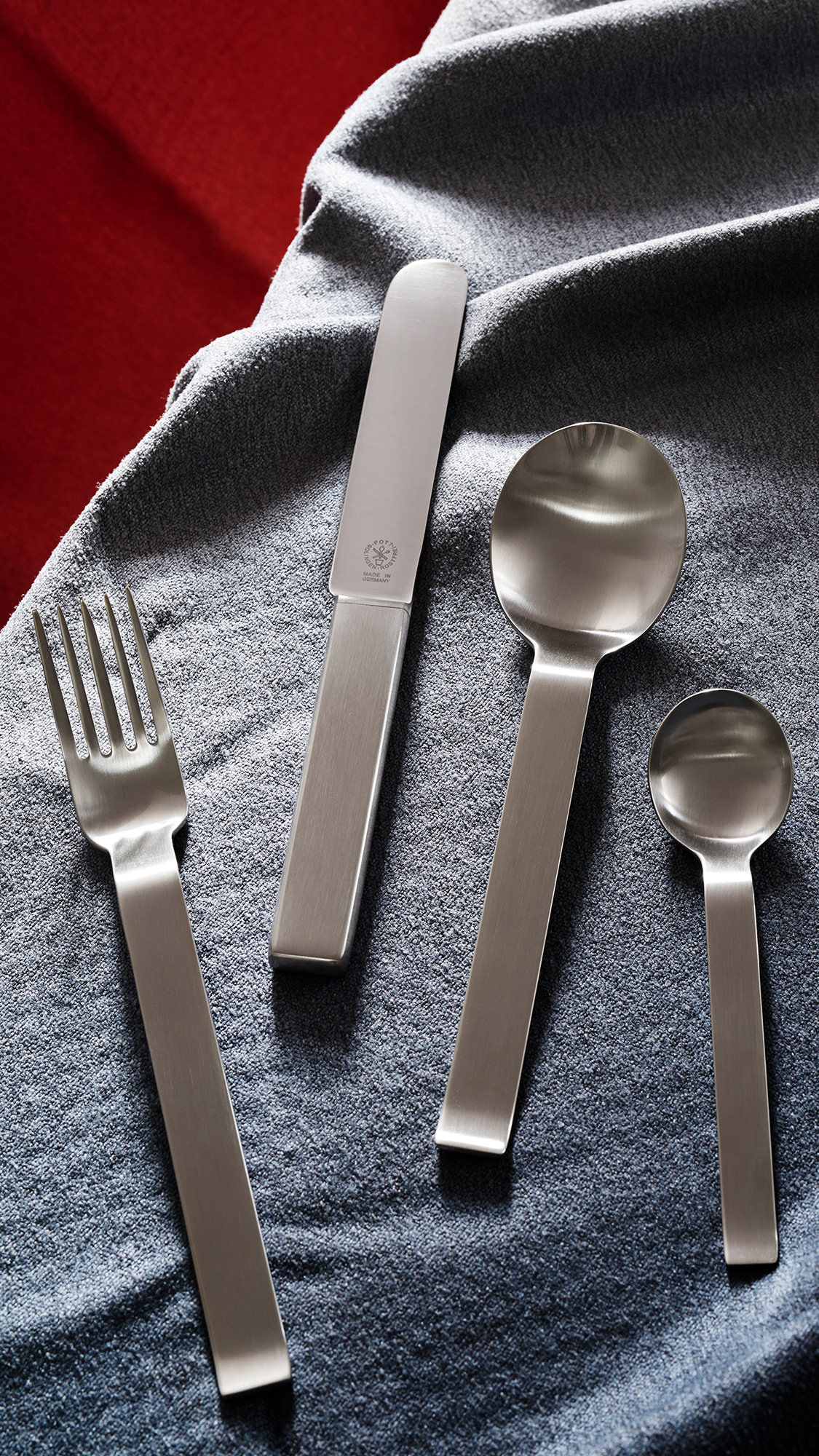 Pott flatware is made of chrome-nickel steel (18/10) and 925 sterling silver. The table knife blades are forged in a traditional manufacturing. The table knife blades are forged from molybdenum-vanadium steel in a traditional manufacturing process in a Solingen factory. This high-quality blade steel guarantees a long cutting durability. However, blade steel can be attacked by acids, which are found in many foods, or by extraneous rust in the dishwasher: this can lead to so-called pitting rust.

In order to enjoy your flatware for a long time, some cleaning and care instructions should be followed.


Cleaning in the dishwasher

In principle, all Pott flatware are suitable for cleaning in the dishwasher. However, you should follow a few instructions.
Food residues should never be allowed to soak in for long. Therefore, it is best to remove any residues immediately after use or prerinse the flatware.
For perfect dishwashing results, it is better to avoid using combination tabs and to add detergent, rinse aid and regenerating salt individually to the compartments provided. It is important to always follow the recommended dosage. Do not use acidic detergents such as citric acid, etc.

Always place your flatware items vertically in the flatware basket with the top parts and knife blades facing upwards.


Stainless steel flatware can pick up flash rust. It is not the flatware itself that rusts, but rather extraneous rust, which often occurs in the dishwasher due to other none-stainless objects. Therefore, do not put metal kitchen utensils (e.g. garlic presses, peelers, sieves, etc.) in the dishwasher with your flatware.


Make sure that the plastic cover of the rinsing basket is not damaged: the metal underneath may release rust.

The flatware should not be left in the closed dishwasher for a long time after the rinse cycle. Moisture increases the risk of development of flash rust. Hand dry the flatware with a soft towel after the rinse cycle before placing it in the flatware drawer. Should stains nevertheless become visible on the surface, manual cleaning is usually sufficient.

Sterling silver and silverplated flatware in silverplated design can generally be cleaned in the dishwasher. There is no danger of the silver coming off. However, it must be remembered that the silver surface is relatively "soft" and is therefore more likely to get scratched in the dishwasher by banging and rubbing against each other. The natural process of tarnishing of the silverware is accelerated by the sulfurous food residues that adhere longer to the dishwashing process, the higher cleaning temperatures and the intensive, continuous degreasing cleaning process. The shorter and preferable hand washing procedure, on the other hand helps in avoiding premature tarnishing of silver and silverplated flatware.



Sterling and stainless maintenance
Flatware from Pott are durable and made for everyday use. With regular care, they will retain their timeless appearance for decades.

Treat stainless steel products every now and then with a gentle and non-abrasive metal care product.

Due to the special nature of the surface of matted flatware, the matting can become bare in some places during use. The surfaces can be refreshed effortlessly with a matting refinishing pad. Make sure to treat the flatware affected parts with the pad only in the matting lines direction and never work crosswise.

Tarnishing of silver surfaces cannot be prevented in ambient air. Use special liquid or paste silver care products with soft cleaning cloths for refreshing and silver care. Special silver care cloths, soap and absorbent cotton also bring back the silver shine.
Many years of daily use can leave their mark on even the highest quality product. We will gladly refurbish your flatware. In addition, we will gladly sharpen your knife blades and rework them with a serrated edge. Damaged blades can also be replaced.
Pott products are made of either sterling silver or stainless steel. The traditional crafting process in our manufactory is your warranty for a perfect and enduring quality product.